A few months before the outbreak of the Second World War, the Swiss parliament took action. It decided to join the international convention prohibiting forced labour that remains in force to this day.
Switzerland said it was only joining the agreement for moral reasons. The text did not affect Switzerland, the government wrote, as it merely regulated "the work of natives in colonial territories".
This was a colossal mistake. The agreement concerned Switzerland directly because slave labour existed there too. But awareness of this only came decades later – much too late for thousands of people taken into institutional "care."
Working without pay
Take Liselotte S. Like hundreds of other teenage girls, she was sent to a privately run factory home for "re-education". From 1960 to 1962, she was locked away in the Sonnenberg home in Walzenhausen, a village in northeastern Switzerland. Such homes were financed by forcing the inmates to work for Swiss industrial companies without pay.
During the post-war economic boom, the home, which was registered as a company, even received commission payments from two industrialists for recruiting inmates.
The Walzenhausen factory home operated according to strict rules. Anyone who rebelled could end up in detention. Anyone who fled was hunted down. Anyone who refused to return after fleeing could be temporarily locked up in a prison cell.
"It is a great injustice and one that no one has ever had to answer for," says Liselotte S., now 82.
Liselotte S. arrived in Walzenhausen on March 22, 1960. The Swinging Sixties had just begun. In Switzerland, the hit song Itsy Bitsy Teenie Weenie Yellow Polka Dot Bikini was revolutionising swimwear. In Zurich, the city police were going after young "yobs" in denim jackets who were unsettling the bourgeoisie. In Walzenhausen, 19 schoolchildren walked in wooden shoes handed out by the welfare office because their parents were too poor to buy them proper shoes.
On that March day, 19-year-old Liselotte S. boarded the cog railway in Rheineck in the Rhine Valley and rode eastward to canton Appenzell. She was accompanied by a welfare officer. "I didn't know where they were taking me," she recalls. "All they said was: 'You're going to a place where you can work.'"
The alleged education consisted of monotonous factory work in the privately run women's home. The wages went directly to the home to cover accommodation and food as well as personal expenses, such as health insurance.
There are a lot of things that she sees more critically today than she did back then, Liselotte S. says. "The home's manager exploited us. He took advantage of the fact that we were not free. I think that's awful. At the time, it just seemed normal to us girls."
Self-financed confinement
There was method to this exploitation: the state used the money to finance the incarceration of teenage girls. The authorities in her native Bern had specifically chosen a home for Liselotte S. that cost them nothing.
Liselotte S.'s social insurance certificate shows in Swiss francs and centimes how much money the state saved with the slave labour-financed "care": on paper, Liselotte S. earned CHF8,475 ($9,554) during the 33 months she was locked away. In today's terms, that would be around CHF34,000. But after all the deductions from her savings account, she had only 1% of that money left. When she was released from the home at the age of 21, Liselotte S. had no education and was penniless.
The Bernese government knew what it was doing. It wrote that Liselotte S. had the "opportunity to work in various industrial companies and thus earn her own living" as part of her "post-school education" in the "reform school". That is the wording under the agenda item "administrative transfer of a minor to a reform school" in the minutes of the Bern government meeting of April 29, 1960. Back then, adulthood did not begin until a child's 20th birthday.
Liselotte S. had already been placed in an institution as an "illegitimate" child at the age of 11 despite her mother's fierce resistance. When she was 19, the authorities raised concerns about a one-off visit to the cinema she'd made with a man of the same age. Only by placing her in a home could "the girl be protected from an extramarital pregnancy, at least as long as she is in care", according to the application to the government. The government accepted this reasoning and ordered a preventive incarceration. The justification given was that Liselotte's "moral development was seriously endangered".
"Keep your mouth shut! Behave and keep your head down!" A banner at a home keeps girls motivated during forced labour.
The authorities whitewashed what Liselotte S. had to endure as "educational work". Walzenhausen was not unique. Similar factory homes could be found in the neighbouring village of Lutzenberg, in Toggenburg, canton Glarus, and in canton Solothurn. They all took in young people ordered to carry out compulsory work by the social authorities.
This went on even though the practice was forbidden from 1941 under the international Forced Labour Convention. The convention defines work "required of a person under threat of any penalty" as forced labour. Without a court conviction, the state is not permitted to impose a work obligation on anyone.
But that is what happened at "care facilities". The women in the factory homes were not convicted criminals. Like Liselotte S., they often ended up in these homes as teenagers merely because they had already been "in care" as children – because they were poor, born out of wedlock, or the children of a divorced couple.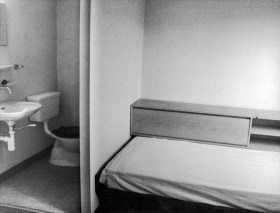 Young people "in care" were often in a worse legal position than criminal youths. From 1942, the Swiss penal code stipulated that the latter had to be offered the possibility of an apprenticeship. Those "in care", on the other hand, could be forced to work for farmers or factory owners. Many were never allowed to do an apprenticeship, so they had poor chances of advancement in post-war society after being released from the homes.
Factory homes became increasingly popular with the manufacturing sector as the economy began to flourish. A labour shortage coupled with the post-war boom encouraged the emergence of a care industrial complex based on slave labour. In some regions, a surprisingly close and mutually beneficial cooperation between the welfare authorities and manufacturers developed.
A slow path to ending forced labour
In the later post-war years, however, slave labour became increasingly difficult to justify at the political level – especially to the International Labour Organisation (ILO) in Geneva, which was responsible for monitoring compliance with the Forced Labour Convention in signatory states. Switzerland faced the first uncomfortable questions as early as 1949, but it was not until 1967 that the ILO refused to accept official reinterpretations of what constituted forced labour. The UN organisation pointed out to Bern in no uncertain terms that Switzerland was in breach of Forced Labour Convention No. 29.
Only a judge could condemn someone to compulsory work – otherwise it was forced labour. In 1969, Switzerland could accede to the European Convention on Human Rights (ECHR) only with reservations. Among the reasons given for this by the spokesperson for the parliamentary commission dealing with the ECHR were "certain cantonal laws on institutional care, because these laws do not allow any judicial review of the care provided by the administration". Another reason was, in his words, the "the lack of political equality for women".
Under pressure, the Swiss president, Ludwig von Moos, spoke plainly about the issue for the first time. In a parliamentary debate in 1969, the government admitted that "care could be combined with forced labour". In cases where people were sent to homes, the lack of a court ruling was not the only problem, von Moos said, but also the fact that "care may violate the international Convention on Forced and Compulsory Labour." This was an official admission by a minister of justice that forced labour existed in Switzerland. It was the beginning of the end of institutional forced labour in the country. By 1981, the practice had become illegal.
Source : SwissInfo